Idiom offers a spectacular Wine Tasting Centre with mountain, vineyard and sea views where passionate wine connoisseurs and guests are invited to explore in Idiom's flagship blends, signature Italian varietal wines and rare limited release 900 Series wines.
Explore the 'Cape Idiom' of the great wine regions of the world, while taking in architecture, views, and Italian-South African wines.
Guests are able to embark on a virtual journey through the main wine regions of Italy at the Vinotria Italian Wine Library – a display of 250 wines from all over Italy distributed by Bottega Family Wines in South Africa.
For reservations, please email reservations@idiom.co.za, call +27 21 858 1088 or book online.
Single Varietal Tasting
A tasting of four Idiom single varietal wines:
Idiom Semillon
Idiom Viognier
Idiom Sangiovese
Idiom Zinfandel
R85.00 PER PERSON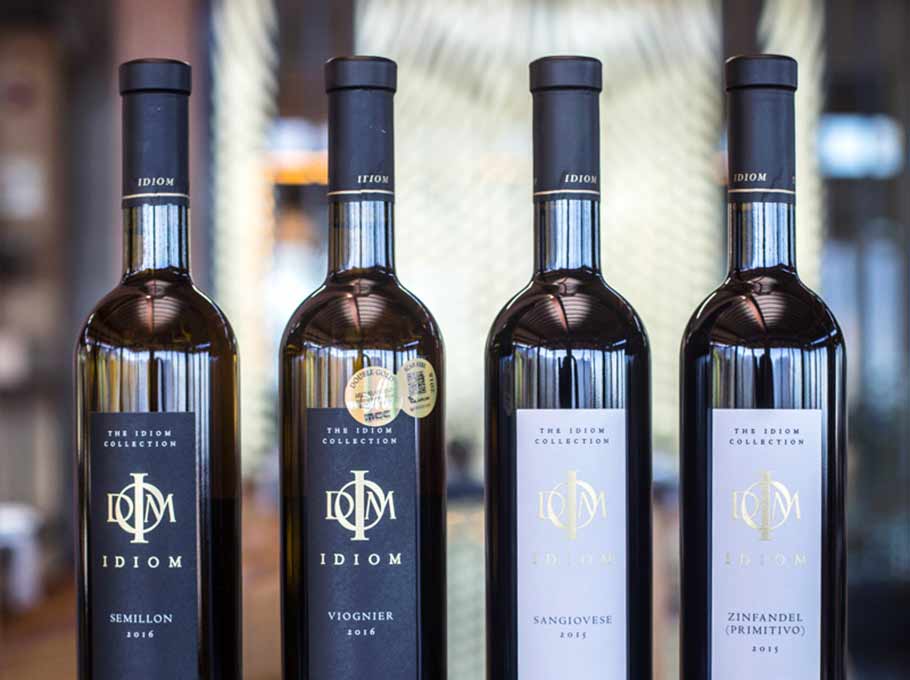 Idiom Blends Wine Tasting
A tasting of four Idiom Blends:
Idiom Cape Blend
Idiom Bordeaux Blend
Idiom Rhone Blend
Idiom Iberian Blend
R125.00 PER PERSON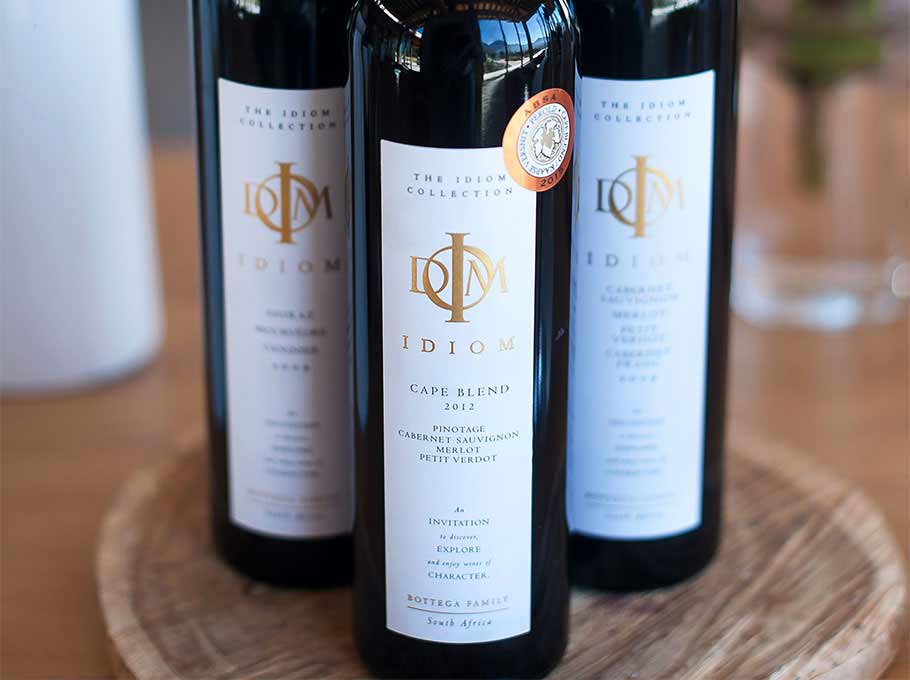 Single Varietal Wine & Canapé Pairing
A tasting of four Idiom single varietal wines & canapés:
Idiom Semillon with
almond and verjuice paste, white grape and honey
mustard seed.
Idiom Viognier with
confit chicken roulade and spiced apricot chutney.
Idiom Sangiovese with
BBQ pork, polenta corn bread & dehydrated tomatoes.
Idiom Zinfandel with
crispy lamb panzerotti and salsa verde emulsion.
R250.00 PER PERSON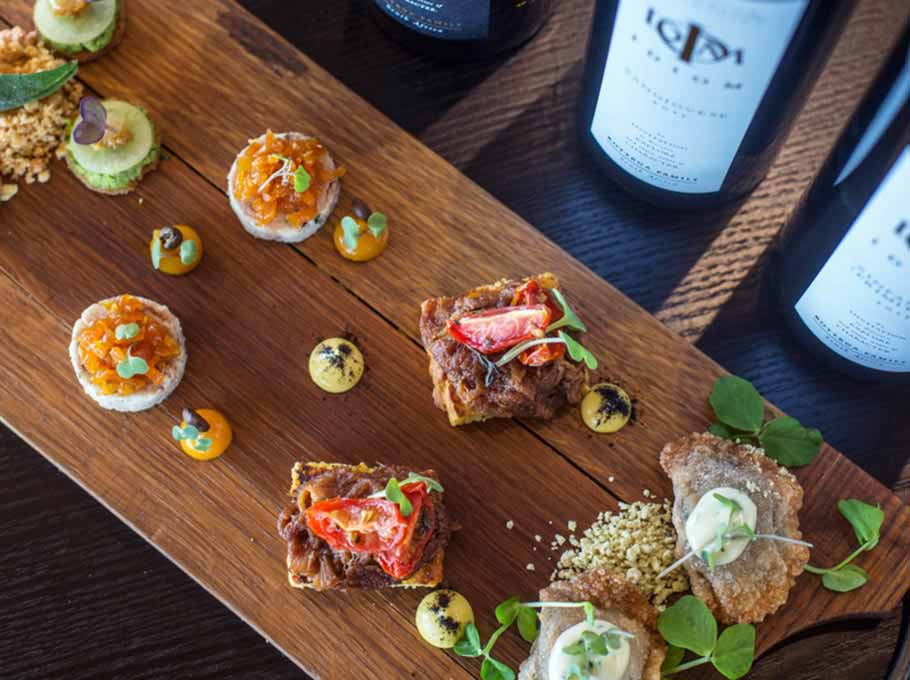 Idiom Blends Wine & Canapé Pairing
A tasting of three Idiom blends and three canapés:
Idiom Cape Blend with
lamb roulade, blackcurrant and juniper,
buchu salt and mint jus.
Idiom 'B' Blend with
beef fillet kebab, mixed peppercorn cream
and fermented blueberries.
Idiom 'R' Blend with
seared ostrich, chocolate ganache, butternut
& coffee chutney.
R250.00 PER PERSON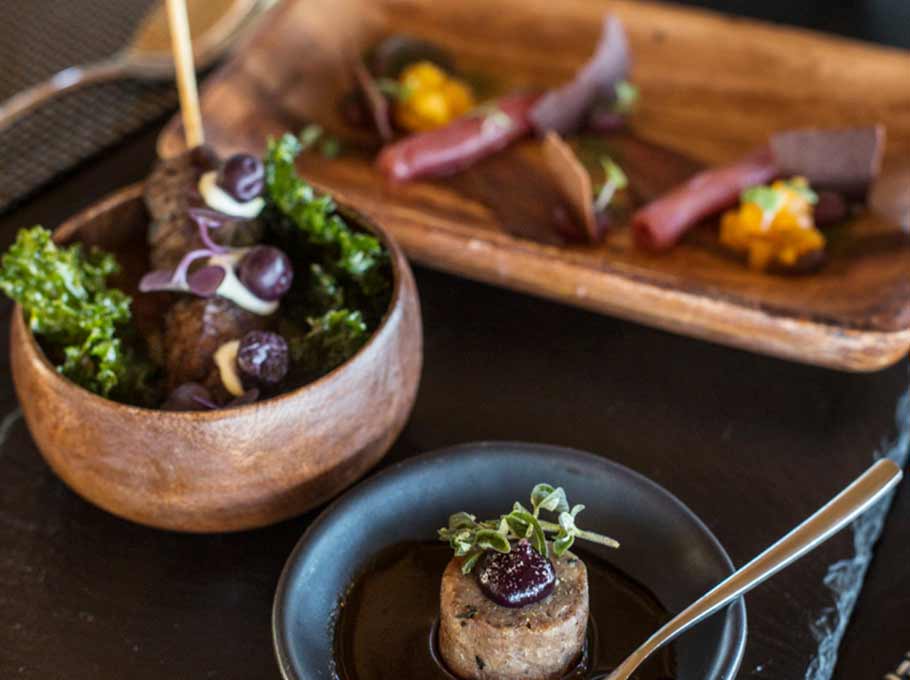 Idiom Macaron & Wine Pairing
[PRE-BOOKING ONLY]
A tasting of three wines and three macarons:
Extra Dry Prosecco
white peach buttercream, white chocolate & chamomile.
Idiom White Gold with
honey jelly, caramel cream & candied lemon zest.
Idiom Black Gold Hailstorm with
espresso and dark chocolate with prune compoté & raisin.
R225.00 PER PERSON